"Murailles Immobilier Marrakech" suggests you this guest house of exceptional location in Marrakech.
This guest house for sale in Marrakech has 27 rooms with private bathrooms and toilets, dressing room and are all equipped with flat screens and some with living room with fireplace, reversible air conditioning and wifi.
A large and spacious spa with 2 traditional hammams, a sauna and 3 massage rooms.
A wonderful terrace with 3 diverse spaces: a bar area with whirlpool, a restaurant in a caïdale tent and an open area with views of the Atlas. A considerable number of covers can be served in each of the last two spaces.
A professional kitchen with entrance for staff on another street.
Property Id : 21899
Bedrooms: 27
Bathrooms: 27
Similar Listings
Located in the centre of Guéliz, on the 5th floor, this 96 sqm apartment for rent in Marrakech consists of: 2 Rooms
[more]
Located in the centre of Guéliz, on the 5th floor, this 96 sqm apartment for rent in Marrakech consists of: 2 Rooms
[more]
99.860 €
Located in the center of Guéliz, on the 5th floor, this 96 sqm apartment for sale in Marrakech consists of: 2 Rooms
[more]
Located in the center of Guéliz, on the 5th floor, this 96 sqm apartment for sale in Marrakech consists of: 2 Rooms
[more]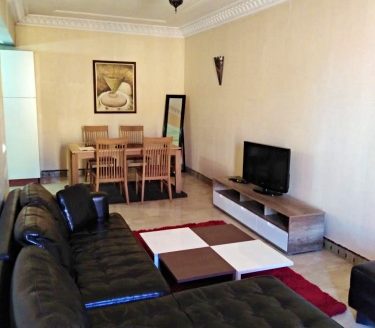 72 sqm sunny apartment for rent in Marrakech, located in Guéliz, on the 5th floor, composed of: 2 rooms including o
[more]
72 sqm sunny apartment for rent in Marrakech, located in Guéliz, on the 5th floor, composed of: 2 rooms including o
[more]